WHERE WERE WE
Søndag 6. december 2015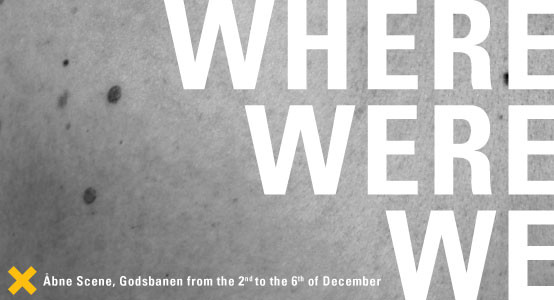 Kl. 11:00 - 19:45
Arrangør: Project Art Writing
Åbne Scene, Godsbanen
Skovgaardsgade 3
8000 Aarhus C
WHERE WERE WE er en art writing festival, som sætter fokus på den blomstrende hybridgenre, der placerer sig i spændingsfeltet mellem litteratur og (billed)kunst.
Festivalen varer fra den 2. til den 6. december på Åbne Scene og byder på et program med kunstnere, forfattere, professorer og mange andre, der vil performe, fortælle og indvige publikum i art writing kunsten – fx kommer amerikanske Marjorie Perloff og danske Morten Søndergaard.
WHERE WERE WE foregår på engelsk. Dagsbillet, partoutbillet og aftenbillet kan købes her.
Dagens festivaloverskrift er Where were we, og programmet ser således ud:
WHERE WERE WE
Collectively curated by Daniela Cascella, Rhea Dall and Martin Glaz Serup
Masterclass programme curated by Ida Marie Hede
11.00 Introduction to the day
11.15 Christian Patracchini: Nearing
11.30 Marjorie Perloff: The Body of Kenneth Goldsmith – Reflections on the Conceptual
13.00 Lunch break
14.00 Dominique Hurth: Séance de lecture
14.45 Angie Keefer: From a Window; Where Were We
15.30 Coffee break
15.45 MonoMono: Two Portraits – A Performance
17.20 Coffee break
17.45 Masterclass Students Non-discursive bodies: signs, textures and digestion
Aislinn McNamara: Material notes: Read as Woven
Ditte Lyngkær Pedersen: Vagina Eating Husband
Adam Drewes: Exercises
Naja Lee Jensen: "                                                          or what I wanted to say for a long time"
Roger Von Reybekiel: Sugar is Not a Vegetable
19.15 WHERE WE WERE ends
I Vogn 1 kan man i mellemtiden opleve:
14.00-17.30 Jen Hofer: Future Somatics To Do List (workshop, 10-20 people)
Find hele programmet her.