WHERE WERE WE
Lørdag 5. december 2015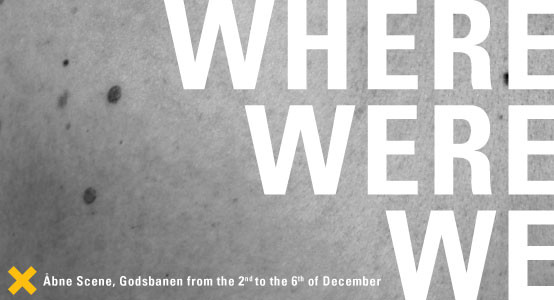 Kl. 11:00 - 17:30
Arrangør: Project Art Writing
Åbne Scene, Godsbanen
Skovgaardsgade 3
8000 Aarhus C
WHERE WERE WE er en art writing festival, som sætter fokus på den blomstrende hybridgenre, der placerer sig i spændingsfeltet mellem litteratur og (billed)kunst.
Festivalen varer fra den 2. til den 6. december på Åbne Scene og byder på et program med kunstnere, forfattere, professorer og mange andre, der vil performe, fortælle og indvige publikum i art writing kunsten – fx kommer amerikanske Marjorie Perloff og danske Morten Søndergaard.
WHERE WERE WE foregår på engelsk. Dagsbillet, partoutbillet og aftenbillet kan købes her.
Dagens festivaloverskrift er Where were we, og programmet ser således ud:
WHERE WERE WE
Collectively curated by Daniela Cascella, Rhea Dall and Martin Glaz Serup
Masterclass programme curated by Ida Marie Hede
11.00 Introduction to the day
11.15 Christian Patracchini: Echoes
11.30 Fredrik Nyberg: How does the poem sound? What is a poetry reading?
12.00 Coffee break
12.20 Patrick Farmer: Border
13.00 Lunch break
14.00 Will Holder: A Last Futile Stab at Fun
14:45 Coffee break
15:15 Ida Marie Hede & Miranda Trimmier HOW TO GV. A manual
15:45 Coffee break
16.00 Masterclass Students Reactive bodies: Labour, perception and imagined futures
Andreas Vermehren-Holm: ECHO'S
Line Kallmayer: Mother's Tears
Nora Joung: A Silent Life
Franziska Hoppe: teXere
Rasmus Brink Pedersen: A review of man in time and space
17:30 Day programme ends
Find hele programmet her.