WHERE WERE WE
Fredag 4. december 2015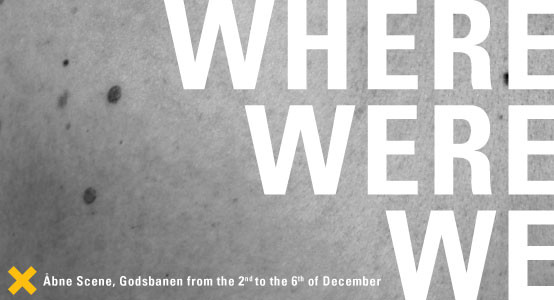 Kl. 10:00 - 18:00
Arrangør: Project Art Writing
Åbne Scene, Godsbanen
Skovgaardsgade 3
8000 Aarhus C
WHERE WERE WE er en art writing festival, som sætter fokus på den blomstrende hybridgenre, der placerer sig i spændingsfeltet mellem litteratur og (billed)kunst.
Festivalen varer fra den 2. til den 6. december på Åbne Scene og byder på et program med kunstnere, forfattere, professorer og mange andre, der vil performe, fortælle og indvige publikum i art writing kunsten – fx kommer amerikanske Marjorie Perloff og danske Morten Søndergaard.
WHERE WERE WE foregår på engelsk. Dagsbillet, partoutbillet og aftenbillet kan købes her.
Dagens festivaloverskrift er The social body sounding, og programmet ser således ud:
THE SOCIALE BODY SOUNDING
Curated by Rhea Dall
10.00 Welcome
10.15 Angie Keefer: Equivocus
10.45 Alex Waterman: The Social Body Sounding
11.30 Coffee break
11.45 Andreas Führer: Dynamics of Fluids in Porous Media
12.30 Gerry Bibby: The Drumhead
13:00 Lunch break
14:00 Gerard Byrne: Entombment
14.45 Lytle Shaw: Third Personism – The FBI's poetics of Intimacy in the 1960s
15.30 Coffee break
15.45 Guattari Reading: Large Group Reading
17:30 Cocktail break
Find hele programmet her.