WHERE WERE WE
Torsdag 3. december 2015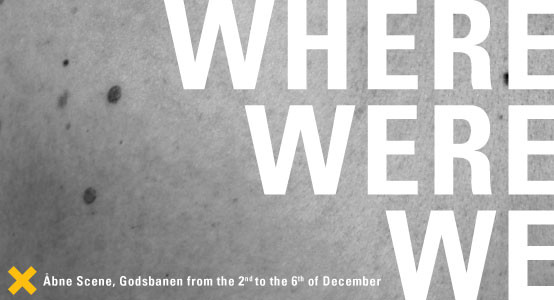 Kl. 10:00 - 18:00
Arrangør: Project Art Writing
Åbne Scene, Godsbanen
Skovgaardsgade 3
8000 Aarhus C
WHERE WERE WE er en art writing festival, som sætter fokus på den blomstrende hybridgenre, der placerer sig i spændingsfeltet mellem litteratur og (billed)kunst.
Festivalen varer fra den 2. til den 6. december på Åbne Scene og byder på et program med kunstnere, forfattere, professorer og mange andre, der vil performe, fortælle og indvige publikum i art writing kunsten – fx kommer amerikanske Marjorie Perloff og danske Morten Søndergaard.
WHERE WERE WE foregår på engelsk. Dagsbillet, partoutbillet og aftenbillet kan købes her.
Dagens festivaloverskrift er Where's the body, og programmet ser således ud:
WHERE'S THE BODY
Curated by Martin Glaz Serup
10.00 Welcome
10.30 Esther Dischereit: I was interested in the truth, so I began to invent it
11.30 Olivier Brossard & Morten Søndergaard: In the Place of Name, Pronouns and the Poetics of Replacement
12.30 Jen Hofer: We Can't Say "Our Body"
13.00 Lunch break
14.00 Poetry reading: Cia Rinne notes for soloists and l'usage du mot, Vincent Broqua recuperating, Morten Søndergaard word / praxis
15.30 Coffee break
15.45 Vincent Broqua: What happens in transfers: art, music, texts
17.00 Seminar 2 ends
Find hele programmet her.