Vona Groarke i Løve's Bog- & Vincafé
Mandag 14. september 2015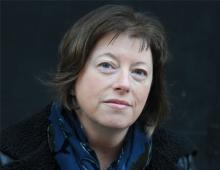 Kl. 20:00
Entré: GRATIS
Arrangør: Løve's Bogcafé
Løve's Bog- & Vincafé
Nørregade 32
8000 Aarhus C
The Centre for Irish Studies ved Aarhus Universitet præsenterer:
Den irske poet Vona Groarke
Hun læser op af sin nyeste "Collection "X". Således skrives der om værket:
'From X-Factor to X-rated, the third least common letter in the English alphabet appears commonly in life. In this sixth collection from award-winning poet Vona Groarke, X occurs when the known and the intuited cross each other's paths.' – The Gallery Press
Arrangementet foregår naturligvis på engelsk og er som alle arrangementer i caféen GRATIS!