THE CATALYST EXPERIMENT: Fernisering og bogrelease
Fredag 1. september 2017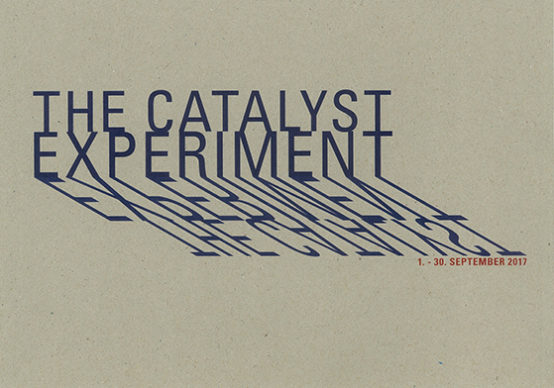 Kl. 16:00 - 18:00
Entré: deltagelse er gratis
Arrangør: Project Art Writing
KH7artspace
Sydhavnsgade 7
8000 Aarhus C
THE CATALYST EXPERIMENT er et interdisciplinært møde, hvorunder anerkendte art writere, gives en række udfordringer og fællesopgaver omkring temaet: katalysator.
Temaet tager afsæt i et populært begreb inden for arkitektur: katalysator arkitektur, der betegner den arkitektur og byudvikling, som udfoldes i snitfladerne på de urbane landskaber, hvor uhomogene og for hinanden fremmede områder mødes. Endvidere peger titlen THE CATALYST EXPERIMENT på den grundlæggende antagelse inden for art writing; at det er stedet, hvor teksten sammen med andre æstetiske udtryk, eksempelvis billede, form, lyd og/eller krop, folder sig jævnbyrdigt ud.
Helt overordnet handler 2017 manifestationen om at præcisere og udfolde de forudgående års undersøgelser af art writings rolle inden for samtidslitteraturen og samtidskunsten.
DELTAGERE I THE CATALYST EXPERIMENT: Maria Fusco (IRL), Jesper Rasmussen (DK), Lise Harlev (DK), Morten Søndergaard (DK), Magnus Bärtås (SE), Corin Sworn (UK), Juan Cruz (ES) Andres Vermehren Holm (DK), Aislinn McNamara (UK), Nat Bloch Gregersen (DK), Nora Joung (NO), Line Kallmayer (DK), Rasmus Brink Pedersen (DK)