SOLEN ER EN STRÅLEBRYDER – Ordbroderier af Sofie H. Eriksdatter
Fredag 21. april 2017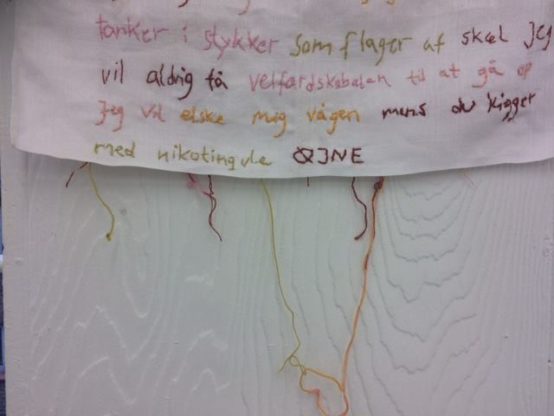 Kl. 17:00 - 19:00
Entré: Gratis, alle er velkomne
Arrangør: Non-space
Non-space
Rosensgade 11,
8000 Aarhus C
'At skrive med tråd er et møjsommeligt og langsomt arbejde. Jeg kommer dybere ind i teksterne, ord for ord, sting for sting.'
Sofie H. Eriksdatter har arbejdet det sidste halve år på en serie af ordbroderier. De tager udgangspunkt i en større tekstsamling; SALT ER SKJOLD, der er under udgivelse.
Ordbroderierne i SOLEN ER EN STRÅLEBRYDER er en fysisk manifestation – en tekstil gestaltning af Sofie H. Eriksdatters litterære og kunstneriske udtryk.
Fernisering d. 21. april kl. 17-19
Udstillingen er åben hver dag kl. 14-17 til og med lørdag d. 29. april.
Sofie Hermansen Erikdatter er digter. Hun har en MA i Æstetik og Kultur fra Aarhus Universitet og er derudover uddannet fra Skrivekunstakademiet i Norge.
//Translation//
SOLEN ER EN STRÅLEBRYDER // THE SUN IS A BEAM BREAKER
'To write with a thread is a laborious and slowly work. I am entering the text deeper word by word, stitch by stitch.'
Sofie H. Eriksdatter will present thirteen of her word embroideries. They are a part of a bigger text collection: SALT ER SKJOLD, which is about to be released.
The word embroideries in SOLEN ER EN STRÅLEBRYDER is a physical and textile manifestation of Sofie H. Eriksdatters literary and artistic expressions.
Opening: 21st of April. 17.00
The exhibition is open daily from 14-17 until the 29th of April.
Sofie Hermansen Eriksdatter is a poet and a writer. She holds an MA-degree in Aesthetics and Culture from Aarhus University and University of Iceland, furthermore, she is educated from the inter-nordic Writing Academy in Norway.