Mad og syrisk litteratur på Mellemfolk!
Lørdag 3. september 2022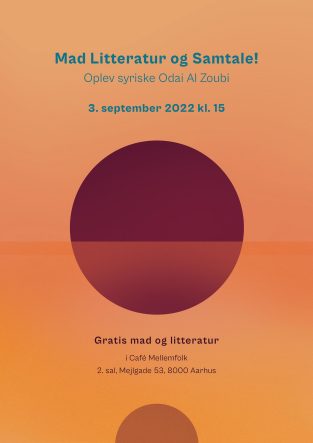 Kl. 15:00 - 17:00
Gratis entré
Arrangør: Forlaget Silkefyret
Café Mellemfolk
Mejlgade 53
8000 Aarhus C
Snart kan du opleve Odai Al Zoubi på Café Mellemfolk!
Syrisk forfatter og debattør, Odai Al Zoubi, besøger Aarhus i forbindelse med udgivelsen af De sneklædte spøgelsers rejse, der netop er udkommet på Forlaget Silkefyret! Kom forbi Aarhus' hyggeligste og mellemfolkeligste café, hvor Odai samtaler med sin danske oversætter, June Dahy.
Der vil være gratis mad til arrangementet og et musikalsk indslag samt oplæsning på både arabisk og dansk! Derudover er det også muligt at købe novellesamling, der har fået en fin omtale her.
Arrangementet foregår primært på engelsk.
English summary:
Meet the Arabic writer and debater Odai al Zoubi. He will be talking with his Danish translator, June Dahy, and they will be reading from Zoubi's texts in both Syrian and Danish. We serve food during the event and it will be possible to buy the author's book recently published by Forlaget Silkefyret . The event is free and will be in english!