Kultursalon: Tsitsi Dangarembga & Mette Moestrup
Onsdag 13. april 2016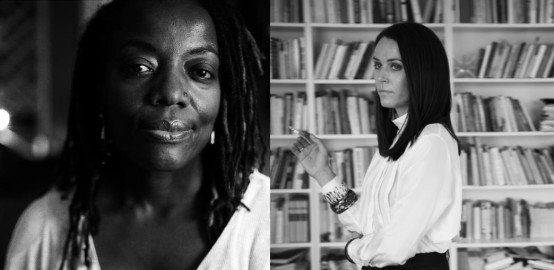 Kl. 19:30
Gratis entré
Arrangør: Aarhus Litteraturcenter, Move'n Act & FO-Aarhus
Vogn 1
Godsbanen
Skovgaardsgade 3
8000 Aarhus C
**ENGLISH BELOW!**
Forfatterne Tsitsi Dangarembga og Mette Moestrup vil mødes til en aften, der vil handle om KVINDER: kvinder i samfundet, kvinder i kunsten og mange andre kvinder.
Den zimbabwiske forfatter TSITSI DANGAREMBGA debuterede i 1988 med romanen Nervous Condition. I sit forfatterskab kredser hun omkring kvinder og deres udgangspunkt(er) for at leve. Ved siden af sit virke som forfatter er Dangarembga også engageret i sit arbejde med at lave film og har bl.a. læst på Deutsche Film und Fernseh Akademie i Berlin. Siden da har hun lavet kortfilm som Sharing Day og Kare Kare Zvako – Mother's Day samt dokumentarer som Elephant People og Growing Stronger.
METTE MOESTRUP er aktuel med genoversættelsen af Sylvia Plaths Glasklokken, som hun har oversat sammen med Olga Ravn. Hun dimitterede fra Forfatterskolen i 1995 og tre år senere kom hendes første digtsamling Tatoveringer. Siden da har hun udgivet en række digtsamlinger samt fællesbogen Frit Flet sammen med Naja Marie Aidt og Line Knutzon.
Karen Rais-Nordentoft, festivaldirektør ved Aarhus Filmfestival, vil være aftenens moderator.
Arrangementet er lavet i samarbejde mellem Aarhus Litteraturcenter, FO-Aarhus og Move'N'Act. Det foregår på engelsk, og der er fri entré.
**ENGLISH VERSION.**
The authors Tsitsi Dangarembga and Mette Moestrup will meet up to talk about the theme of the evening: WOMEN. Women in society, women in the arts, and other kinds of women.
The Zimbabwean author TSITSI DANGAREMBGA debuted in 1988 with the novel Nervous Condition. In her works she often circle about the theme of women and their basis for living. Next to her writing is Dangarembga also engaged in making films and has studied at Deutsche Film und Fernseh Akademie in Berlin. Since then she has made short feature films like Sharing Day and Kare Kare Zvako – Mother's Day, and several documentaries like Elephant People and Growing Stronger.
METTE MOESTRUP has currently retranslated The Bell Jar by Sylvia Plath in cooperation with Olga Ravn. In 1995 she graduated from Forfatterskolen and three years later she published her first collection of poetry, Tatoveringer (Eng: Tattoos). Since then she has written several collections of poetry plus the book Frit Flet in cooperation with author Naja Marie Aidt and dramatist Line Knutzon.
Festival director at Aarhus Film Festival, Karen Rais-Nordentoft, will be the moderator for the evening.
The event has been arranged in cooperation with Aarhus Center for Literature, FO-Aarhus, and Move'N'Act. It will be in English, and it is free.