Kåring: 500 ord nominerede og vindere
Lørdag 14. november 2020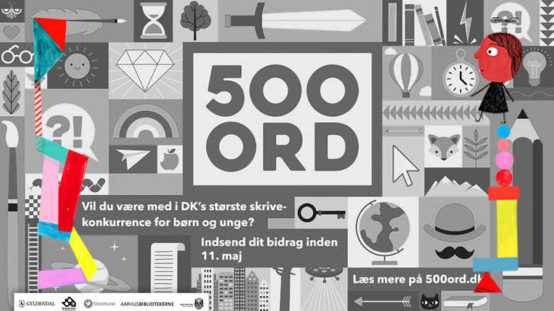 Kl. 12:30 - 13:30
Gratis entré
Arrangør: Hovedbiblioteket
Store Sal, DOKK1
Hack Kampmanns Plads 2
8000 Aarhus C
Vi kårer to vindere af årets skrivekonkurrence 500 ord og hylder alle 15 nominerede. På grund af restriktioner er arrangementet målrettet nominerede og deres familier, men kig forbi Rampen og læs de nominerede historier.
500 ord er en landsdækkende skrivekonkurrence for alle mellem 9-14 år.
Konkurrencen er skabt i samarbejde mellem Gyldendal, Brønderslev Forfatterskole og Aarhus Bibliotekerne.
Konkurrencen åbnede den 16. april med deadline for indlevering af historier den 11. juni.
En ekspertjury har fundet frem til to vindere, én som får sin historie udgivet som illustreret bog på Gyldendal, og én som vinder et ophold på Brønderslev Forfatterskole i 2021.