AUTOX: Seminar on Autofiction, Autonarration, and the Autobiographical
Onsdag 7. maj 2014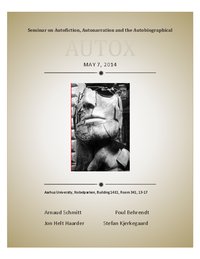 Kl. 13:00
Gratis entré
Arrangør: Aarhus Universitet
Nobelparken, Bygning 1481, lokale 341
Jens Chr. Skous Vej
8200 Aarhus N
Program:
13.15: Welcome
13.20: Arnaud Schmitt: "Revisiting self-­‐narration in the light of Karl Ove Knausgård's "My Struggle"
14.00: Poul Behrendt: "Napoleon walking on his grave. The Instant of my Death reconsidered as an Autonarrative"
14.40: Break
15.00: Stefan Kjerkegaard: "The Lyric Poem as Scenography of Authentic Voice. Yahya Hassan's Autobiographical Lyric Poems."
15.40: Jon Helt Haarder: "Flashing Fictionality. Authenticity and Artificiality in Karl Ove Knausgård's My
Struggle"
16.20: Dicussion
Seminaret er arrangeret i samarbejde med Narrative Research Lab og Centre for Fictionality Studies.
Alle er velkomne!