Authors in Aarhus: Donald Ryan & Oona Frawley (Ireland)
Onsdag 20. april 2016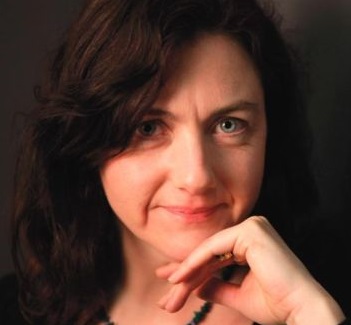 Kl. 19:00 - 21:00
Entré: 50 kr. / studerende 50 kr.
Arrangør: Authors in Aarhus
Dokk1, Store sal
Hack Kampmanns Plads 2
8000 Aarhus C
A Hundred Years of Irish Identity
This year marks the hundredth anniversary of Ireland's most important historical event; the 1916 Easter Rising, during which the country proclaimed its independence. For the occasion, two great Irish voices will be present at Dokk1, and will lead the audience through a fascinating take on Irish identity, culture and history over the past hundred years, with an important focus on Ireland today.
Donal Ryan's debut novel, The Spinning Heart (Danish title:  Rust), was a number one bestseller in Ireland and a Boston Globe bestseller in the US. Set in Ireland around the time of the economic crash of 2008, the novel digs deep into man's heart and into human relationships at the time of financial crisis. It won the 2013 Guardian First Book Award in the UK, and was long-listed for the 2013 Man Booker Prize. He is also the author of The Thing About December and A Slanting of the Sun, which will be released in Danish early April.
Oona Frawley is a celebrated Irish academic and novelist. She has taught in many renowned universities, and she in 2014 published her highly-acclaimed first novel,Flight, a beautiful tale of migration. It was nominated for an Irish Book Award in the 'newcomer' category. Oona's research interests lie in Irish Studies, particularly of the late 19th and 20th centuries, in memory and trauma studies, and in ecocriticism.
The event will be in English.
Om Authors in Aarhus
Authors in Aarhus – er regionens international forfatterscene. Scenen er blevet til i et samarbejde mellem Aarhus Kommunes biblioteker og Aarhus Universitet og præsenterer udenlandsk litteratur for et bredt publikum.
Selvom danskerne læser meget, så bliver der læst forsvindende lidt oversat litteratur. Det er en skam, da litteraturen er en unik og nuanceret måde at møde verden på. Authors in Aarhus skal være med til at gøre international litteratur tillokkende, tidssvarende og tilgængelig for en bred læserskare.
Til hvert arrangement har vi inviteret en mindst en udenlandsk forfatter, og det vil gennem interview være muligt at få et indblik i, hvilke emner, der bliver diskuteret i andre kulturer og lande. Arrangementerne afholdes på Dokk1 og foregår, når ikke andet er angivet, på engelsk.
Authors in Aarhus er inspireret af den International Forfatterscene i Den Sorte Diamant.
Følg Authors in Aarhus på Facebook. og se mere på forfatterscenens egen hjemmeside www.authorsinaarhus.dk