Artist talk: Poetry recreating Aarhus
Søndag 15. oktober 2017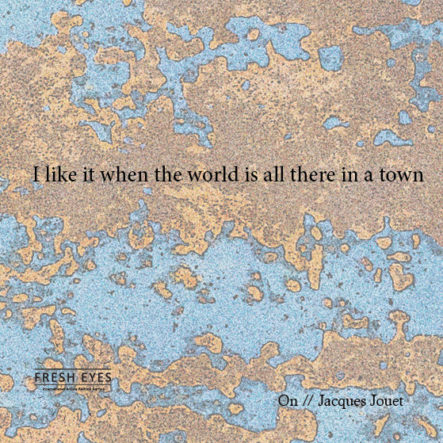 Kl. 15:00 - 17:00
Gratis entré
Arrangør: Aarhus Litteraturcenter og Galleri Image
Vogn 1, Godsbanen
Skovgaardsgade 3
8000 Aarhus C
**ENGLISH BELOW**
Denne eftermiddagen søndag d. 15. oktober vil to digtere tale om at fortolke en fremmed by poetisk. Jaques Jouet (F) og Carl Jóhan Jensen (FO) har deltaget i kunstprojektet FRESH EYES – International Artists Rethink Aarhus, hvor de begge har lavet en lyrisk repræsentation af byen og skrevet om, hvordan det er at være gæst i den danske by. Samtalen bliver modereret af oversætter og lektor i Fransk ved Aarhus Universitet, Steen Bille Jørgensen, og her vil Jaques Jouet og Carl Jóhan Jensen diskutere mulighederne og udfordringerne, ved at udforske et sted gennem sproget og lyrikken.
Digternes kunsteriske bidrag til projektet FRESH EYES bliver udgivet d. 12. oktober, samme dag som vi fejrer åbningen af FRESH EYES -byrumsudstillingen! Klik her for mere information. Du er mere end velkommen til at deltage i denne kombinerede udstillingsfernisering og udgivelsesreception. Bøgerne af Jouet og Jensen, såvel som den officielle FRESH EYES-kunstbog vil være til salg under begge arrangementer.
Artist talk'en kommer til at foregå på engelsk, og der er gratis entré.
FRESH EYES – International Artists Rethink Aarhus er blevet til i et samarbejde mellem Galleri Image og Aarhus Litteraturcenter i forbindelse med Aarhus Kulturhovedstad 2017. Siden 2013 har disse to institutioner inviteret internationalt anerkendte fotokunstere og forfattere til at opholde sig i Aarhus og med hver deres kunstneriske tilgang kreere visuelle eller litterære repræsentationer af byen. Alle kunstnernes bidrag indgår i den store udstilling og i kunstbogen.
**
On Sunday October 15th in the afternoon two poets will talk about interpreting a strange city through poetry. Jacques Jouet (F) and Carl Jóhan Jensen (FO) have participated in FRESH EYES – International Artists Rethink Aarhus, and in connection to this project they have both written lyrical representations of Aarhus and of being a visitor in the Danish city. In this talk – moderated by translator and associate professor at Aarhus University, Steen Bille Jørgensen – Jacques Jouet and Carl Jóhan Jensen will discuss the possibilities and challenges of the task of exploring a place through language and verse.
The contributions to the FRESH EYES project by the two poets will be published on October 12th – the same day we celebrate the opening of the FRESH EYES – Urban Exhibition! For more information follow this link. You are more than welcome to participate in this combined reception and book release. The books by Jouet and Jensen as well as the big FRESH EYES art book will be for sale during both events.
The artist talk will be in English and there will be no entrance fee.
FRESH EYES – International Artists Rethink Aarhus is a collaboration between Galleri Image and Aarhus Centre for Literature in connection with Aarhus European Cultural Capital 2017. Since 2013, the two institutions have invited internationally renowned photo artists and authors to Aarhus as artists in residence in order to create visual or literary representations of Aarhus during their stay. The project concludes with an urban exhibition and book launch on October 12th.